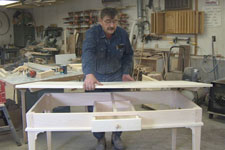 Don Burchat of Don's Woodcrafts is a self styled craftsman with over twenty years of experience. Don takes pride in creating beautiful handcrafted wood furniture and fixtures for the home and workplace. His goal is to provide each customer with furniture made to their specifications that will last a lifetime and be treasured for generations. Located in the historic hamlet of Wilno, Don has drawn on years of experience and personal inspiration to craft treasured products from a variety of woods.
A few years ago he was commissioned to build a display cabinet in the style of Wilno furniture. It was at this time that he realized the quality of workmanship that was put into the furniture that was built a century ago. Being a fifth generation Kashub-Pole, this inspired Don to pay tribute to these early craftsmen by reproducing their unique pieces now known as "Wilno Furniture".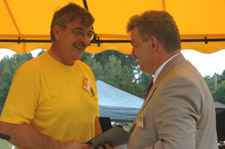 In August, 2008, Don received the Merit Award of the Senate of the Republic of Poland in conjuction with the 150th anniversary of the first Kashubian settlement in Canada.
"The Merit Award recognizes your very high achievement, endeaver and passion for the promoting of the Kashubian Culture in Canada. These accomplishments pertain in particular to your activities as the Polish Kashub Furniture Director – producing and promoting our ancestors' furniture."

-Kazimierz Kleina, Senator of the Republic of Poland